Today's Blog Post is dedicated to my webbie friends who don't know - yet - that they like vegetables. This morning, I awoke early and decided that I needed to make a special
Root Vegetable
salad. First, I cut the tops and roots off of Beets and Golden Turnips that I had stored in my refrigerator. I did not peel them before cooking.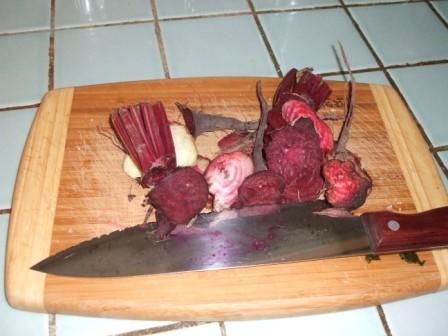 I peeled some carrots and cut them into chunks. Then I put them into Richard's Steamer (along with some potatoes for another purpose) to cook. Note: You do not need the
Steamer
to steam vegetables. All you need is some kind of rack suspended over about an inch of simmering-to-boiling water.
Then, it was time to address breakfast. I sliced down some Onion,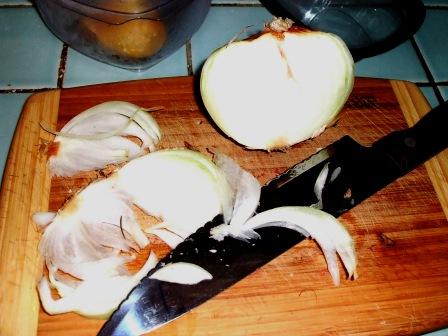 and Tomato.
I broke two eggs into a frying pan that had been sprayed with non-stick spray. (I personally favor Trader Joe's Olive Oil Spray, but anything, including Pam, will work. Also, if you're not ready to use non-stick spray yet, use a dab of reduced-calorie margarine.) I sprinkled them with salt & pepper to taste, and also Tabasco Sauce. Then I dropped the Tomato & Onion slices on top of the eggs, along with some sliced Mushrooms.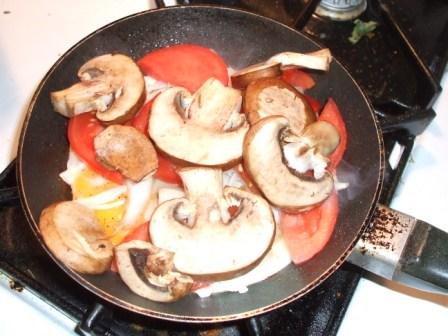 I covered the pan, and cooked over medium-low heat until the eggs were done and the vegetables were sweating.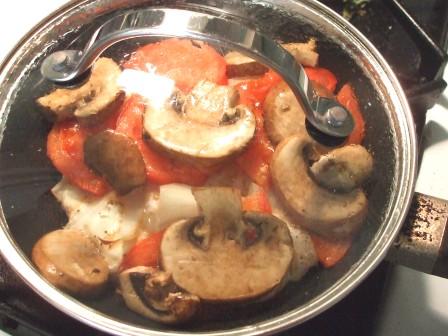 In the meantime, I dropped some fresh strawberries on my plate.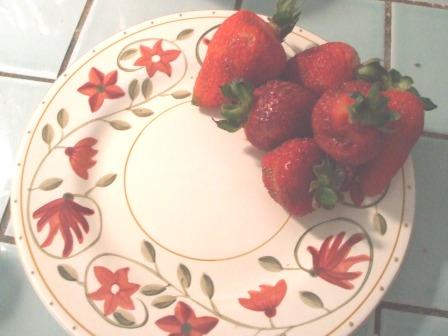 When the eggs were done, I added them to the dish.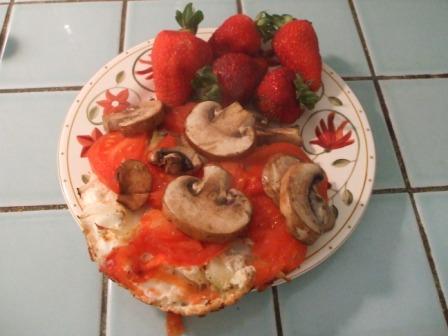 Then, I pulled my Trader Joe's Papaya-Mango Salsa out of the refrigerator...
And put it on top of the eggs. Yum! I've also, on other occasions, used regular salsa, Parmesan cheese or another grated cheese in great moderation. And sometimes I eat this meal without a topping at all. I do confess, this morning, to feeling like a slice of toast too, so that was a part of the meal that you don't see.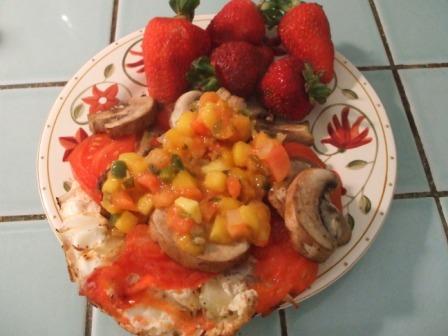 After the Root Vegetables had cooked and completely cooled I removed them from the steamer.
I removed their skins by just sliding them off with my fingers. (Note: Richard likes to use gloves during this process because the beets do bleed; I don't bother.) Then I cut them into chunks.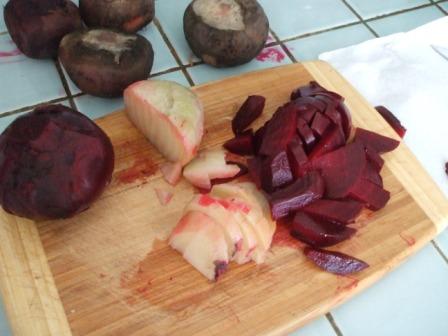 I did the same with the carrots, although I do confess to having peeled them before steaming 'em.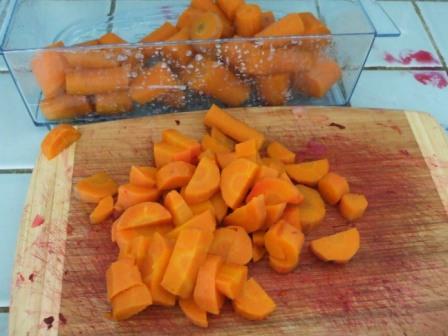 I coarse chopped a sprig of parsley.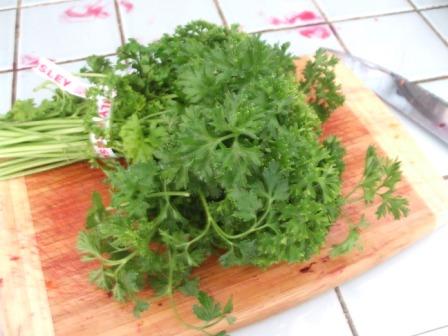 The easiest way to chop parsley and other herbs is to leave them in their bundle and start slicing them down from the leaves back towards the stem. You can chop them as coarse or as fine as you like according to your taste.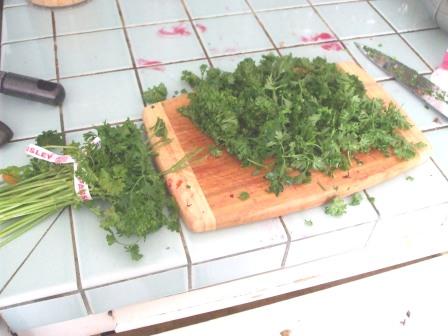 Then I pulled a bundle of green onions and chopped them too.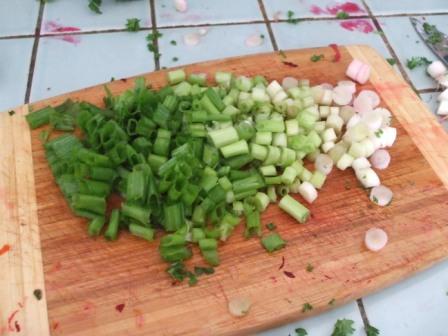 Everything cut and in the mixing bowl, it was time to add the dressing. If you use a Vinaigrette style dressing, it will cut the earthy taste of the vegetables and leave them sweet. I personally favor the full fat Wishbone Red Wine Vinaigrette although you should use whatever you prefer. Some people also like to add Parmesan cheese to this mixture altough I find it just a little too much for my taste.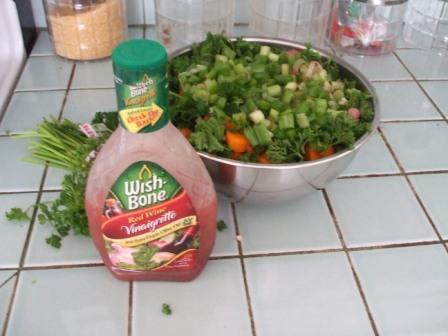 The end result is about the most colorful salad you will ever see that tastes good too. I strongly suggest making this ahead of time and chilling it in your refrigerator. That way, the dressing has time to permeate the vegetables.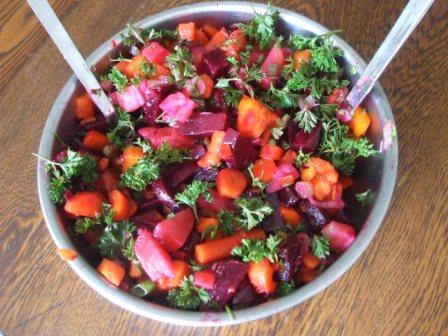 I've stored this salad in my refrigerator for as many as five days without issue; I'm absolutely sure it would last longer if I didn't eat it up first!