It's been a painful process, getting married with an instant family, suffering health crisis after health crisis (a couple of outcomes still pending), having a very old and sick dog, and trying to retain my identity. Sadly, some things had to give.
Slimmons
... I expect I will never be welcome there again. Long story, don't ask.
Friends:
I lost a couple who I thought were "best friends forever" during the marriage process and thereafter, but as I said to my tremendous friend Claudia just last week, in the end they did me a favor. We had gone in separate directions, barely spoke anymore anyway, and as much as the relationships had meant to me, by the time the wedding came around, they were already gone anyway. There was just a pale imitation left and it's a relief not to have to pretend to care anymore. Bottom line... I didn't need the drama.
Jewelry:
My crafting and art suffered for the changes, and I did very little to make - let alone promote - my work.
Happily, I've started taking jewelry classes again and have been making new items in profusion. I just listed the first three items in my
Etsy Shop
: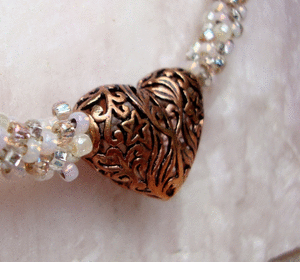 Make an avatar
I'm happy to say that all these items are listed as part of a fund raising effort for the parenting group
BILY (Because I Love You)
who is sponsoring a
Silent Auction/Poker Tournament
on June 12th in Granada Hills along with an inexpensive lunch. If I don't sell one of these necklaces before that date, I will make it available at the Silent Auction to sell for what it will.
I'm proud that the first works I put up in my new equilibrium are for a worthy organization and I am able to contribute and make a difference. I hope that anyone who lives in the area and isn't doing anything that day might come to the event - even if you don't play poker... you don't have to play to come - and see me. I miss my old friends so much.