It started out a clear and sunny day, but by mid afternoon, it was cold (by Los Angeles standards - shut up!), and cloudy. Perfect weather to make soup.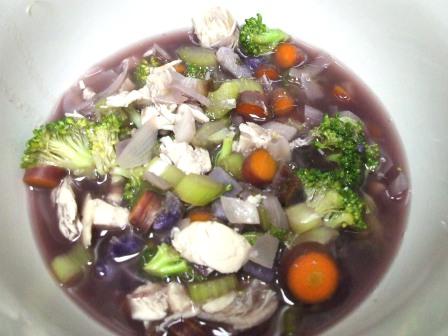 Ingredients:
4 Cups chicken broth
1/4 pound small white onions, quartered
2 Cups peeled, diced yam or sweet potato (I used a purple yam for soup in the pic... made the broth purple)
3/4 to 1 Teasponn crumbled sage
1/4 Teaspoon pepper
2 medium carrots, cut into 1/4-inch rounds
2 cups broccoli florets
1/2 cup diced celery
3 cups cooked chicken, in bite sized pieces

1. In large saucepan, bring the chicken broth to a boil over medium-high heat. Add the onions, yam, sage, and pepper. Cook until the yam is just tender, about 5 minutes.

2. Add the carrots, brocoli, and celery. Cook until the carrots and broccoli are tender; about 5 minutes longer.

3. Stir in chicken until heated through.

Bon Appetit!