One of the beading classes that I took at Stitch Cafe was from Shelly Neimerow in Freeform Peyote. I've finished both my first and second pieces.
I've been derelict at photographing other jewelry pieces and posting them within my jewelry site; it's time to get back into the groove. But based upon the quality - or lack thereof - of the pictures that I am taking, and the magnitude of the work that I am putting out, it's probably time to find myself a professional photographer.
I also need to get my behind in gear and actually post my product on Etsy so that it's available to a customer base beyond my immediate travels.
I suppose that I should say a few words about the work, but I don't know exactly what to say. That it took a lot of time and is very detailed? That I'm shocked and surprised that my hands (and brain) can put out these kind of pieces? That my history in knitting and spinning and dyeing are all standing me in good stead now that I am working in another medium? All givens.
So I hope that my less-than-high-quality photographs convey the spirit of the pieces that I have just completed and that I don't sound too egotistical when I say that I really like how they came out.
First Piece: Freeform Peyote Bracelet. Beaded bezel around a fused glass cabechon.
Second Piece: Freeform Peyote Necklace. Beaded bezel around a hand painted (by Shelly Neimerow) porcelain cabechon.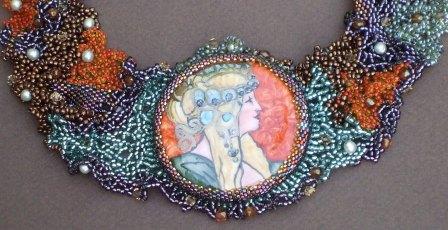 Close up of the same.