I really enjoy my spice garden. I've also looked at gardens of friends who grow their own vegetables, contemplating how I could make it happen in my own small patch of dirt. Given the size of my "yard" sans patio is only about 6 x 8 feet, it's unlikely that I could get much out of it. Especially since the dogs are there on a very regular basis. A Container garden, on the other hand, is something that is do-able.
At the beginning of summer, I visited my friend Elena, who was recovering from some surgery. She gave me a tour of the various plants that were growing in her back yard. Spices, tomatoes, corn, lettuce.
Lettuce?
It was beautiful. Mixed varieties that she had grown from seed. She said the seed was from an internet company called
"Seeds of Change."
When I queried if it could be grown in containers, she said that P- did it; it was ornamental and functional at the same time. And the seed of an idea was planted in my brain.
After exercise class today, I decided to run over to Bristol Farms to pick up some more
"Orange-Chili-Garlic Sauce."
And the proverbial seed sprouted. There, right in the front of the store, were packets of seeds for $1.99. And what was right up front-and-center? Mixed lettuce, of course! I bought one, and have since perused the instructions. It seems that I have purchased enough lettuce for a family of six. But the good news is that you're supposed to plant it either in the early spring or late summer. I have plenty of time to put this plan into action. It will be a grand experiment.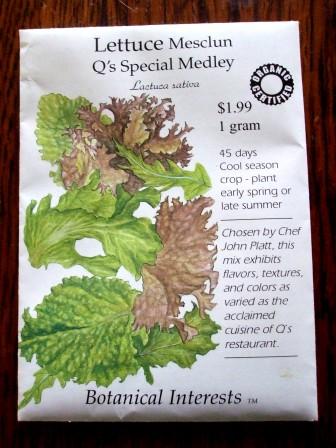 Of course, if I want to experiment with something on a scientific level, I only have to go as far as my Chives. Planted in an old watering can a couple of years ago, it was right out of a 2" pot from
West Valley Nursery.
(The
best
nursery in town!) It's done very well at times; at other moments like when I forget to water it or when I over water it, not so well. But I was surprised and pleased when it sent a shoot off a few weeks ago with a pod on the end. "It's about to bloom." I happily confided in Eric. "It blooms purple flowers. I understand that when a spice plant flowers, the flavor decreases, but I like the idea of the flowers, so I'm not going to do anything about it." (Note to self: I really need to look up chive flowers and see if they can be eaten before putting one in my omelette.)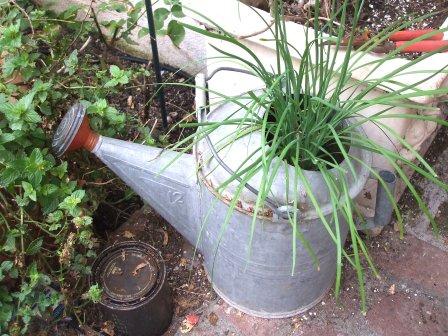 Since that day, the plant has sent off numerous pods. They are growing taller and taller, the highest now approaching 18". But not a one of them has bloomed.
This has me a little concerned. Do I have a Chive Plant or do I have an alien invasion? Neither of the dogs, not even Cosmos, seem concerned about it. Does that mean that there's no reason for fear, or does they're just mean that they're dumb? Or uninterested in vegetables? Cosmos, during a diatribe in one of his e-mails to his good friend B-, commented that vegetables do not exist. Is that true of spices too? Because if it is, I shouldn't be relying on the boys to protect me.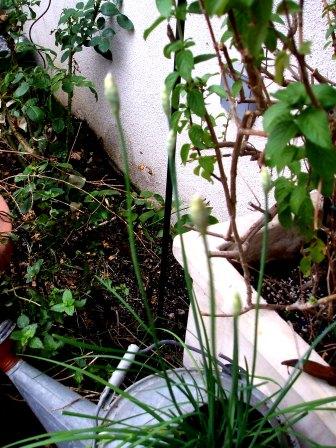 And what of my other spices? They have all doubled in size in the past week since Ian and I transplanted them. Are they about to shoot off pods too? Should I be worried?
Finally, do spices and lettuce intermix other than in my salad bowl? Should I be afraid if they do? I don't know. But one thing that I
do
know is that I really like salads. And fresh lettuce right from my patio seems like a great idea. If it is from outer space and makes me glow in the dark, then I can save on the electric bill.