Last Saturday after exercise class at Slimmons, I headed directly down to the Santa Monica Civic Center Auditorium. There, I found Mariko's annual
Fabulous Fiber Fest.
It's a very upscale crafting show with an emphasis on luring fiber artists into trying new disciplines. Bead and Button vendors are next to Quilting Booths who are next to Spinning and Weaving Suppliers. Because Mariko is very careful about the artisans she allows to sell at her show, people from all around Southern California come to buy goods without worrying that the quality is anything but the best!
One of the wonderful features of the show is that there are animals who's fibers are used in our crafts in front of the building for all to admire and "love," if the animals will allow it. Before even going inside, I was all over it. The three alpacas got my immediate attention, but they were aggitated, humming their low hum that's so pleasant to the ears.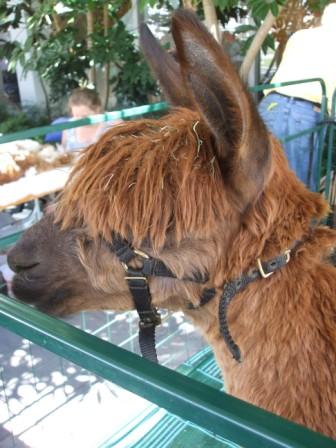 They are so delicate in features and their eyes are so big that they look like something out of a Disney movie. In fact, they are dromids, members of the Camel family. They can easily be identified from that lineage from their shapes, but also by habit. You see, when they are upset, they spit. And spit they did on Saturday!
That's actually a rather rare event. They are very docile and quiet as a rule, and I found out later that there had just been a group of kids teasing them. That would explain their overall manner while I was visiting them. Rather than being curious about me, sniffing my face and emitting a low undertone of a hum, they were pacing the corral, humming loudly and looking outside, like they were expecting someone. Except for "Mystery," who lay in the center of the corral with an angry look on her face. And Mystery didn't just
look
angry, she was. I snapped a couple of pictures of the group; she did not approve. (She also didn't approve of her 'roommates' squeezing by her to get drinks of water.) The next thing I know, it happened. I had been slimed!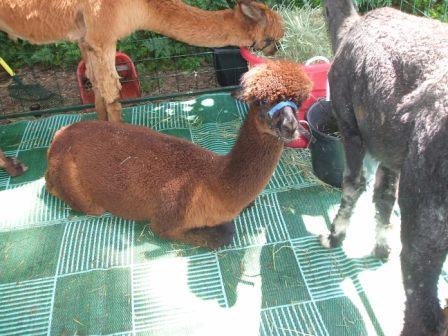 Alpaca spit is slimy. It's green with a high viscosity. It smells of alfalfa. And just like the slime in Ghostbusters, it covers everything and sticks! Fortunately, I love animals. I was pretty amused. A long time ago when I first started spinning wool, I visited a Llama farm. I asked the owner how far they can spit. "They're accurate up to around 10 feet. Why do you ask?" she inquired.
Because I wanted to know how far away to stand from them when I teased 'em.
There were other animals in front too. Angora Bunnies. (Yes, where angora comes from.)
And Chinchillas!
Apparently, chinchilla fur is now being incorporated into hand spinning fibers. I was very surprised because it's a short staple, but they showed samples of 70% Cormo (a very soft staple wool), 20% Silk, and 10% chinchilla fiber, yarns, and a knitted swatch. The chinchilla lent a lovely bloom to the sample, something akin to angora.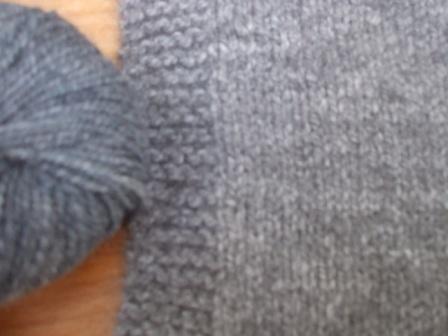 Once I finished playing with the animals, and buying a raffle ticket for a chance to win a hand-made quilt,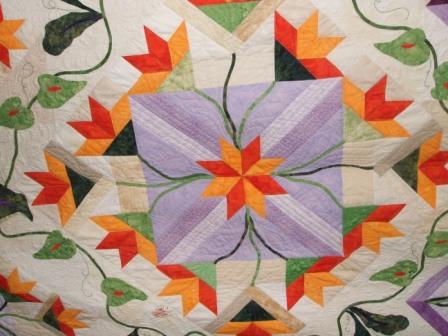 I went inside. The show was amazing, as usual. I was actually attending, specifically to meet
Michael and Sheila Ernst
and buy some of their handmade buttons to use in my jewelry. I not only got a gorgeous set, but I also got a handblown glass bead which was absolutely incredible. I will use it as a center piece in one of my necklaces.
I suppose that if there was a
Fiber Fest.
every weekend, I might grow used to it and not realize how extrordinary a show it really is. Or maybe I would, because the event of my weekly Farmer's Market has not grown old yet. But sadly, Fiber Fest is only once a year. Ah well, I still have the
Southern California Handweaver's Guild
annual
Show & Sale
in Torrance this November to hold me over. It is a different emphasis, but I enjoy that too.
I am so lucky. I don't know what I would be doing now had I hadn't joined forces with the artist and crafting community in my area.