One of the most amazing things about my dog's prolific use of the computer is the fact that I don't have a clue what he is thinking before it gets typed. Last week, I thought Cosmos would disapprove of his friend M-'s wiggle dance at Slimmons. Instead, he wholly endorsed her.
This week she led the class again, to this comment by my boy:
Dear M-:
I heard that tonight at Slimmons, instead of wiggling for joy, you were jumping up and down. That can only mean one thing.
Somebody was offering you dog biscuits.
Your salivating friend,
Cosmos
I should have known that he'd go there. After all, to Cozie, the entire world revolves around food. But until he wrote the e-mail, I couldn't have guessed.
Then was his very first post on the Richard Simmons Bulletin Boards, in response to B- getting a good report from the veterinarian:
Dear B-:
This is the first time I have ever posted directly into this forum. I usually send e-mails to people that I either like because they feed (send) me dog biscuits, or to people that I disapprove of. Sometimes the same people fall into both categories.
I understand that your Mom and your family made you socialize with the Awful Medicine Person today. I don't like those people; they usually make cracks about my weight like "It wouldn't hurt him to miss a meal." and the like. What do they know? Yes it WOULD hurt me to miss a meal. It even hurts to miss a biscuit.
I heard, though, that your Awful Medicine Person says that you are feeling fine. That you may be slowing down because of some age, but that she did not have to do anything horrible like give you a shot. You lucky dog.
I had to have two shots on Monday and another this morning. The only good part of the whole thing is that I got to go for car rides before and after the terrible experience. And, of course, they have dog treats at the Awful Medicine Woman's office. That makes up for some of it.
B-, I warn you, stay well. You don't want to make your family worry about you. When they do, they will call the Awful Medicine Person over and over and over again until something bad happens. Trust me; I know about this.
I'm glad that you're feeling well and are just a little spoiled. I approve of spoiled. Not only is it fun, but it tastes good too.
Your friend,
Cosmos
This post got all sorts of responses through Richard's site by both people and dogs, but I'm not sure what the rules are regarding my quoting from there, so I will refrain. On the other hand, he also received some private e-mail as a result, starting with his friend B-.
Cute! I saw !! I love you Cosmos!!
Hugs and lots of love -
B-
To which Cosmos replied:
Dear B-,
Show me the dog biscuits.
Cosmos
He also heard from his Cousin R-
in Florida:
Hi (((Cosmos)))
Mom and I saw your post today.You are so right about the awful medical people. I hate them too. I know you have been around the block so I will take your advice. I am proud to call you my cousin. You know, you have always been my role model. :) Do you know why Mom got so mad today when she found me eating her Shell Oil Co credit card?
Love,
Cousin R- aka The Criminal
Cosmos thought that R- might be confused, and responded as follows:
Dear Cousin R-:
Maybe your Mom was mad about something else. I can't imagine that she would be mad at you for eating Shells. After all, they're a good source of calcium, and the seafood contained inside is high quality protein at a low calorie cost. And if you ate the black stripe, you could say that you are full of animal magnetism.
If you want to see your Mom get really mad, eat a stick of butter. Be sure to get the grease in your chin hair and rub it on the carpet. After you do that, she won't get angry about sea shells any more.
Love,
Cousin Cosmos
Cosmos loves to counsel his fellow canines. But I do think it's going too far when he starts talking to cats.
My dear Cosmos,
My name is C-, but I believe Mother already mentioned me in an email to you earlier. I tried to email you then myself but she insisted on hogging the keyboard to herself, a particularly annoying human trait, I find.
I am a long haired black and brown tabby male (I insist that I remain a male despite the humiliating procedure Mother deemed in my best interests when I was but a child--what does SHE know!!!) Anyway, I'm pretty fast on my feet, so I guarantee if we ever meet, we'll all get an aerobic workout. And I daresay it would be more entertaining than that jumping about Mother does in front of the DVD player. The music isn't bad but she looks a bit foolish with all that sweating and flailing around. I prefer not to sweat myself. I enjoy frequent naps, preferably in Mother's computer chair when she vacates it.
It appears Mother is planning to visit you and your human and your bro Sunny, whom I'm told enjoys tormenting small white dogs. So do I when I can find one, which unfortunately isn't often since I am compelled to remain indoors at all times. When the time comes for the packing of the travel bags, I shall see that copius amounts of treats are included for you and Sunny. You can depend on me!
I remain, your new feline friend,
C-
Cosmos is never lacking for words.
Dear Charlie:
Do you spit? I enjoy making cats spit. Especially when they are trapped in cat carriers at the vet.
I went through that humiliating procedure too, however, it was way before I ever met Mom. Awful Medicine Person.
It doesn't slow me down a bit. I still insist on humping Mom's leg whenever she changes her clothes.
Does your Mom exercise to that Richard dude? I enjoy watching him on my television.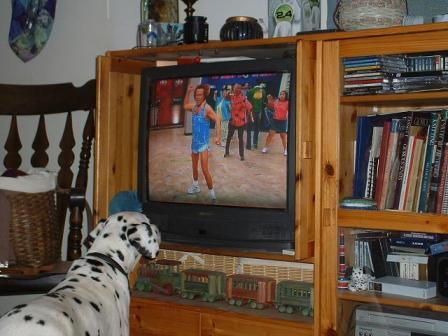 But I have to admit that he just wears me out.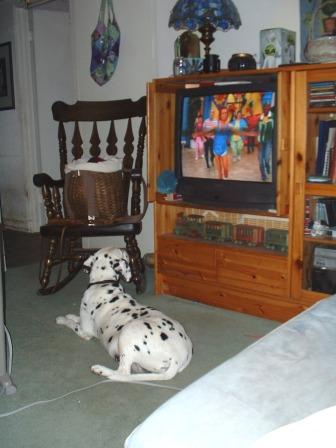 I prefer dog biscuits to dancing.
Your new friend,
Cosmos
The world is going to the dogs.