So sue me?!? The week has been crazy with weather and classes and - gulp - my birthday!
I'm back now, and will do my best to catch you up on the proceedings of the early week now.
This portion of my blog is dedicated to Janet Preston: a lady of grace and style as
well as beauty. She organized a special cook-off during Richard Simmons's Retreat Weekend
last October and I will never again make Cous Cous without thinking of her. And now, I present...
A Recipe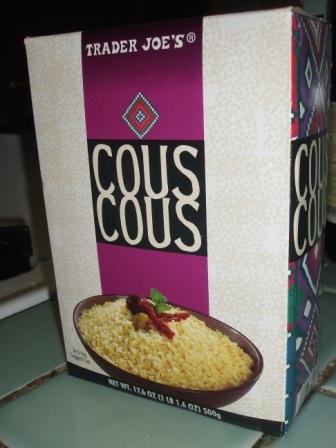 Start with a box of Cous Cous. (It only takes 5 minutes to cook once the water is boiled.)
>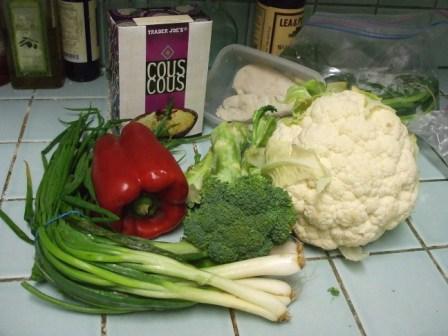 Pull any vegetables out of your refrigerator that you either think look good or are about
to spoil.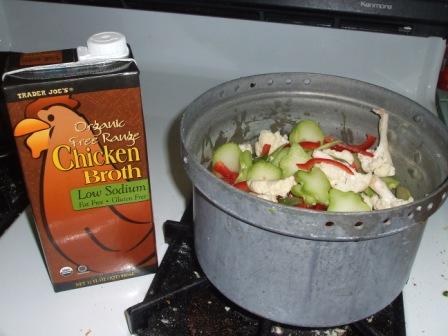 Cut them up into bite sized pieces. Put them in a pot and add chicken broth. (I also
added chicken for a complete meal in a pot.) Bring to
a boil.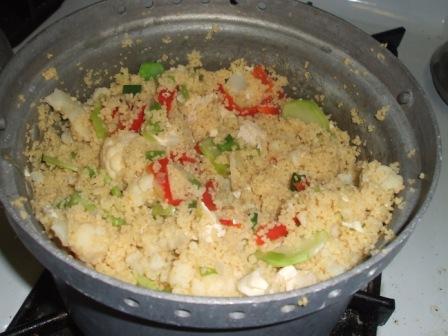 When broth is boiling, add Cous Cous and turn off heat. Cover pot and let stand for 5 minutes.
I like to top mine with Orange-Chili-Garlic Sauce, but you can

use whatever you like or eat it plain. (I've done that too!)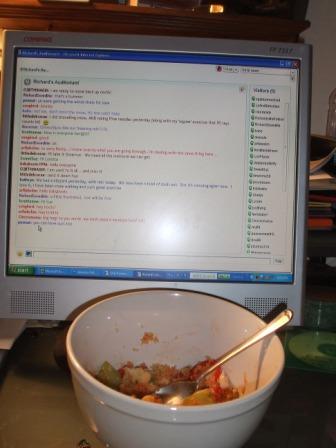 I also like to eat in front of my computer. Again, sue me.
*-*-*-*-*-*-*-*-*-*-*-*-*-*-*-*-*-*-*
China Painting Finale
This past Wednesday was my last China Painting class. I'm really sad about it (next Wednesday
is the last class until after the Holidays are over) but I'm going to be really happy to see my final
result. Next week, we will be going on to a one day refresher seminar in beading, and also
having a small holiday party. Yes, I'm making pie and I expect to post the recipe here. No, it is
not healthy, but it is oh so good.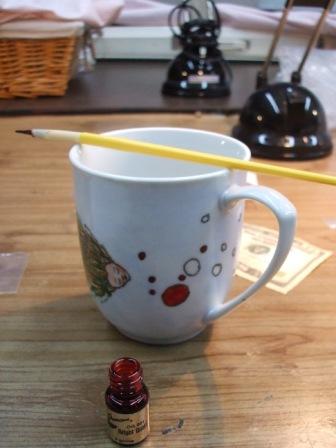 We started by painting in gold. Not the color gold, real gold. The red that
you see coloring in the mermaid's bubbles? Gold. The red will burn off, leaving the gold behind during
the firing.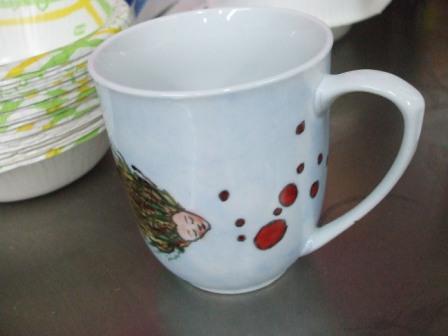 This class came with a warning. Do not spill the gold. It is very expensive. I believe
it.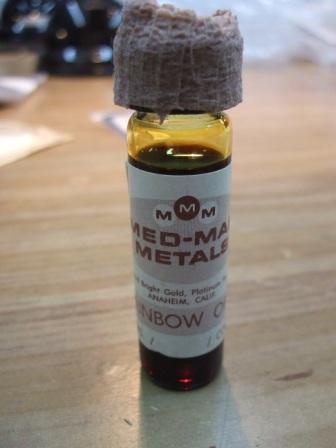 Once the gold had been applied, it was time to apply the Opalesence. That will leave a clear
coating where applied, with a rainbow effect. Like the gold, it comes suspended in a colored
medium that will burn off during firing. Yellow. Ugh.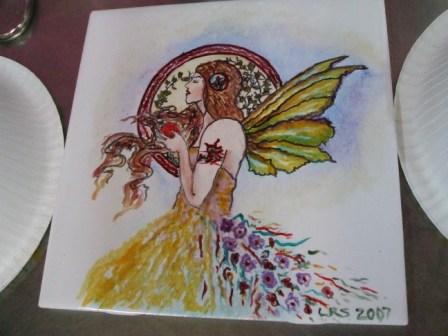 You can see how the yellow takes over everywhere it's painted. Let this picture be the only
reminder of that! I'll post a final pic of the trivit (and the mermaid) next week.
*-*-*-*-*-*-*-*-*-*-*-*-*-*-*-*-*-*-*
Trader Joes: "An Adventure In Shopping"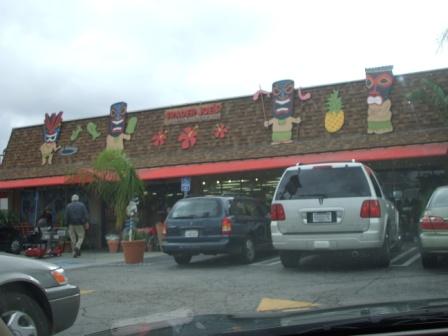 This would be my local branch of Trader Joe's. For those of you unfortunate enough to live
in parts of the world where this chain is not, they are a store that used to specialize in liquor -
specifically wine - and carried gormet foods too. Now, although they have a good sized inventory of
wines and still keep gormet items on hand, it's also been somewhat mainstreamed since the Grocery Strike
of 2003. I do a lot of shopping there, mostly for exotic fare such as Fire Roasted Mango-Papaya Salsa
and Spicy Ranchero Egg White Salad, Ak Mak Crackers, and Peanut Butter Dog Biscuits. They bill themselves
as "An Adventure In Shopping" and they're not kidding. How many stores do you shop at that are
decorated in Polynesian Warriors?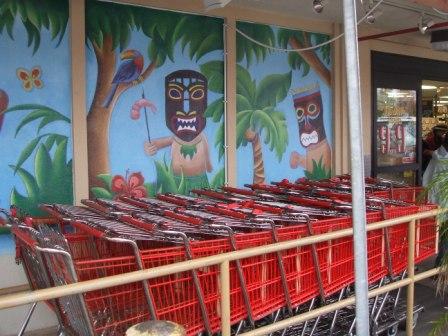 This last trip was a tough one for me. Let me show you why: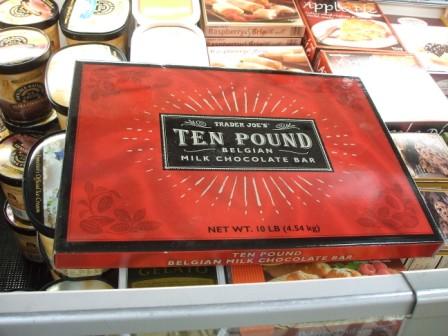 10 pound chocolate bar? I could eat it in an evening.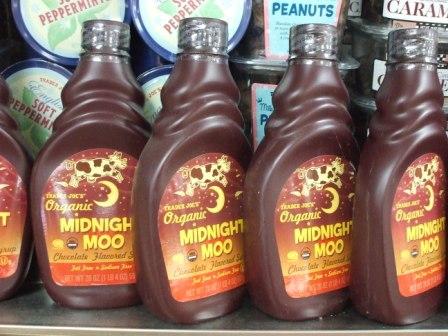 Midnight Moo? It's midnight somewhere in the world every second of the day.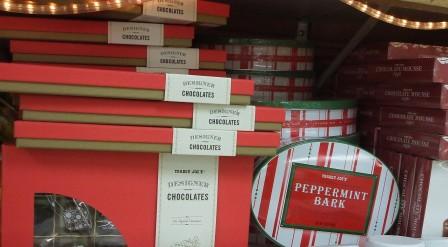 I'll bark for Peppermint Bark!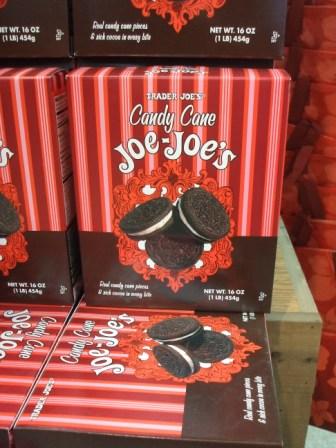 These have been displayed on the end cap at the entrance to the store for a month now. Why is
it that I just LOVE the junkiest, lowest quality food best of all?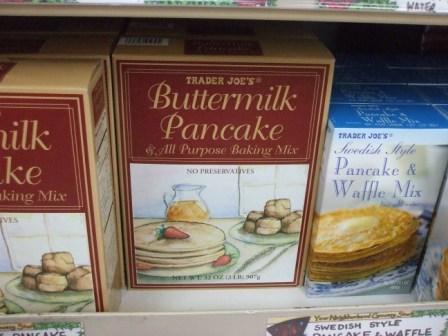 Once Upon A Time I kept this in my home as a staple. I miss it.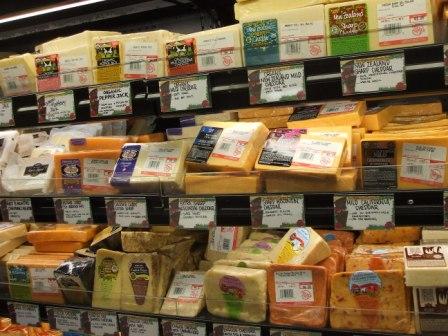 Ah! And the obligatory cheese section! Which I walk right by every shopping trip to
visit the Sample Bar. This week's sample: Cranberry Orange Loaf. Pretty good.
Here is my shopping cart during my wait in the check-out line. Not a one of those items that I so

desperately wanted is in there. The "worst" thing you'll find is a package of Dried Chili Mangos" that I bought in

honor of my birthday since I did not have a cake this year.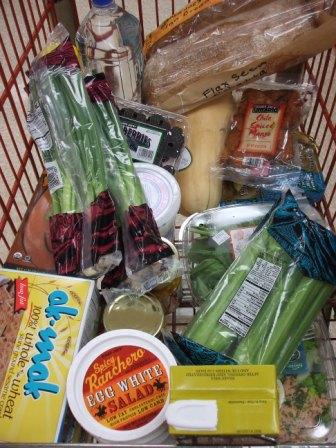 And now, with the vantage point of a couple of days past, I still wish I had bought the Candy Cane
Joe-Joe's, but I'm glad I didn't.

---
In Pursuit of Excellence

Monday, 12/3/07
I've worked hard at many things. I worked hard at my career; it went kaput! along with my health. I've
worked hard at needlepoint and embroidery; spinning, knitting, weaving, and all things fiber art. I love
the process and am relatively adequate at it. My non-spinning friends are amazed at what I can do. But
when I compare my efforts with my peers within that community, I know that I will never show the same skill
(and associated results) as they do. But then, along came beading.
I am still relatively new to the beading process and world. My introduction happened last March by
accident. I attended a fiber conference in Visalia and took one of my "weird and unassociated with spinning"

classes. Who would have thought that it could turn into a passion?
I finished up another major piece of work this morning. I've been lax at taking photographs of my
output, especially as of late, and since it was sunny and bright out, decided to capture images of
some of my recent work. As I started to take the pictures, it all of a sudden came to me. I'm really
getting good at this. Not just by the general community's standards, but even amongst
artists. That revelation coming the day after I wore this piece to a Gem Show (great place to buy beads)
at the Santa Monica Civic Center where both booth owners and patrons alike kept stopping me to admire and
comment on my work. (If you, dear reader, were at Richard Simmon's Retreat last October, yes this is
the piece that I started during his radio broadcast.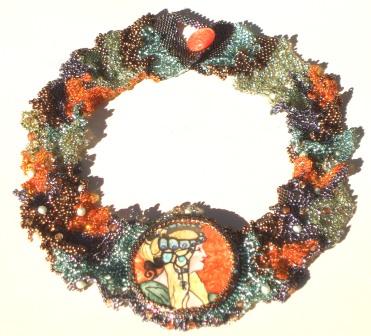 I am an extremely insecure person, so it's hard to acknowledge the idea that I am excelling at something.
Especially something so fundamental to my being. I'm always very nervous too, and so I use the process
of creation to settle my nerves and calm my brain down. That's why you'll almost never see me without
some sort of project in my hands, even in social situations. Especially in social situations. When I'm
partially distracted, I tend not to panic to the same degree, and thereby don't put my foot in my mouth as

much either.
This next piece is the one that I finished this morning. It will be delivered to it's owner tomorrow.
These pictures prove that I am very good at beading, but still leave something to be desired as a

photographer. I suppose I will need to take a photography class next.
This is my purse. I made it from scratch. I learned how to work with leather from
href="mailto:azreds.art@gmail.com">Shelly Neimerow; the beaded portion was a necklace that I wore
the day that I took it. It looks better on the purse than it did around my neck.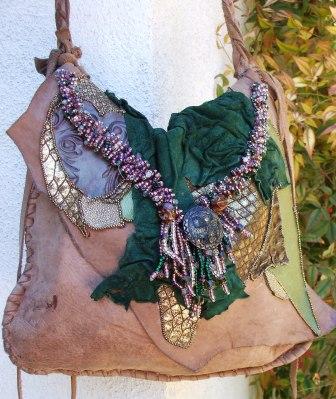 A couple of weeks ago, I needed to replenish my business cards. As I looked at my plain and ugly
business card case with a sigh, it suddently occured to me. Thanks to the class in leather, I knew how
to make it better. And so I glued on leather on which I then beaded the edges, and afterwards, added one of

my beaded bezel cabechons out of Imperial Jasper.
These days, I carry cabechons with me wherever I go because they are small and easy to transport. I whip

them out of my purse to work on whenever I'm in a situation where I will be sitting for a while, and will

eventually work them into various pieces.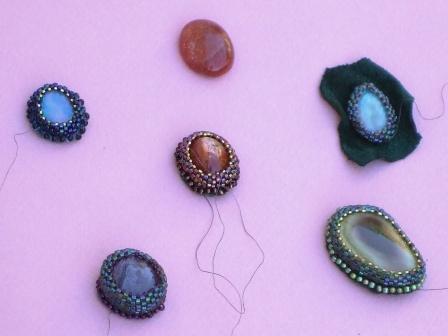 It's a weird feeling to look at these pictures and know that although the skill that is required to
make these is something that comes naturally to me, not everyone could do this. Have I actually
discovered a type of talent?