Today was my Spinning Guild Meeting.
The Greater Los Angeles Spinning Guild
(GLASG) meets the fourth Saturday of each month in
Saint Andrews Lutheran Church
in West Los Angeles, a gorgeous facility with a lovely staff. In fact, Joshua, their new pastor, came to visit and greet us today and ended up spinning too!
I love our members... they are creative and passionate, and it's all about what we do and create, not about appearances. I loved them when I weighed 358 pounds because they didn't care. I love them just as much now, or maybe even more because when other circles of friends had a hard time with my changing body and attitude, the stellar people at GLASG did not miss a beat. Those that liked me then still like me. (Well, for the most part anyway.) Those who didn't still don't. Because their like and dislike was not on a superficial level.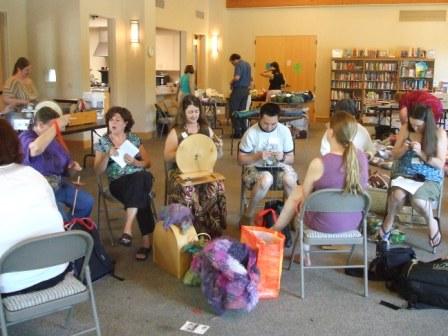 I got to use the "Fart Machine 2" while I was there. I used it on a woman who used to be my "friend," but I don't suppose she thinks much of me anymore. (Her opinion hardened well before the Fart Machine.) She did not respond in a positive manner.
I used it on
Dave Larson
, but he was busy demonstrating how to use his new gigantic drum carder, electrified, so he didn't even notice.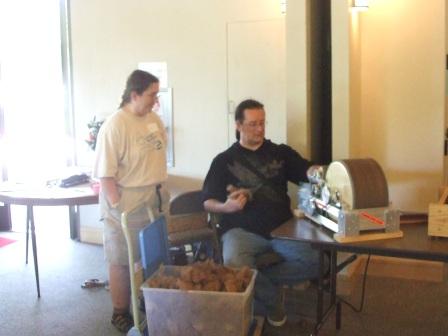 I do have hope though, as
Ruth Schooley
was taping him when I pushed the button so she could post the demo on YouTube. Yes, she knew what I was up to and she assured me that her camera had sound!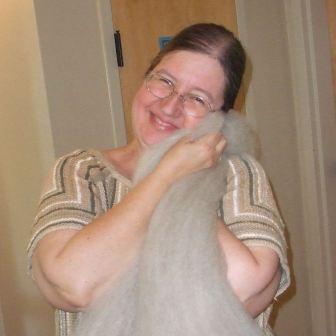 I also used it on Randall Hayden. Randall is truly a rennisance man; I don't think there's any subject that he doesn't know about. And his knowledge isn't bluff and bluster, either. He really does know. Randall sells wonderful
Navajo Looms
and teaches weaving.
Anyway, he was sitting right next to me, and the result of the sound was entirely satisfying. He knew, of course, what it was and who was pushing the button. I set it off just after our "formal" meeting started. He smiled at me, giggled a little, and kept on spinning. I adore Randall.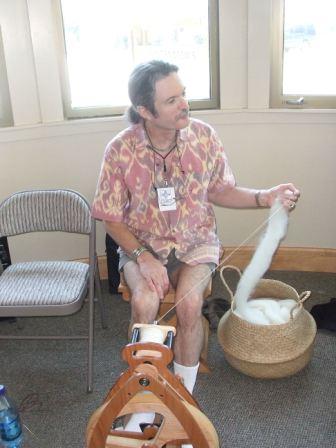 * * * * *
The refrigerator saga continues, although not at the same intensity as when I had only 1 1/2 refrigerators. The new one works beautifully since repair, and I've moved all of my food over. My condo has lost that
refrigerator that's not working
smell.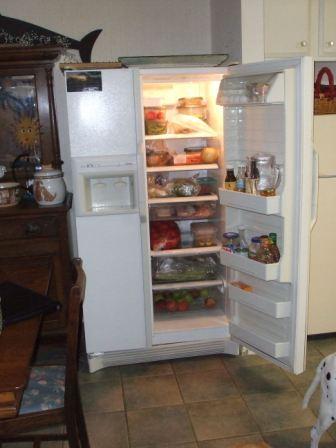 I've even almost completely scrubbed out the old one; it will be ready for a new home shortly. But what of a new home?????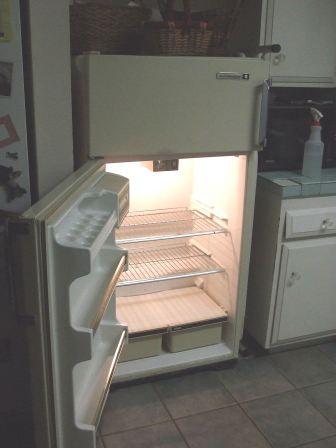 When I listed it as available on
Freecycle
, I only received one response, and then I had to delay the gift because the new 'fridge didn't work. On Thursday evening, when it was clear that the new one was now fine, I contacted K- and offered it to him again. He said he would get back to me on Friday, but didn't. So I suppose he doesn't want it and I will proceed accordingly. But how to proceed?
I am thinking about posting signs in my condo complex, but it's unlikely that anyone will respond in a positive manner. After all, grown ups live here. And whether they own or rent their unit, they are likely somewhat affluent. This place, even as a starter complex, isn't cheap.
I could also go up and down my street, sneak into different apartment complexs, and post signs there. After all, there are quite a few buildings here that have
singles
and
junior one bedrooms
. That is exactly what this size refrigerator is meant for. But I want this taken care of quickly.
I may call the Jewish Charity out here that sets up living accomodations for new Russian Immigrants. I know that Goodwill will not take it, but maybe they will.
Or I can just have it put in the alley behind my complex with a sign that says "I work, take me."
I don't know... I'm not going to miss the refrigerator, but it's served me well, still works, and is now clean. I hate to just trash it. Not when I know for sure that somebody out there could use it.
* * * * * The dogs are recovering from their surgeries.
Cosmos had a traumatic evening when he realized that our refrigerator - the old one - didn't have any food in it. I was scrubbing it out when he noticed; his reaction was to stick his head completely inside, then turn to me with a look of disbelief on his face. When I finally closed the door, he ran in little aggitated circles in front. Where did our food go? This was just unacceptable!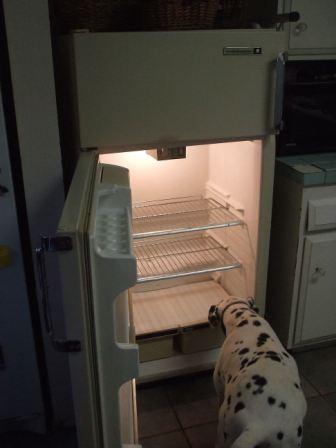 I tried to get him to look inside of the new box. He wouldn't go near it. Sunny, on the other hand, was willing to view it. But only from a distance of about two feet.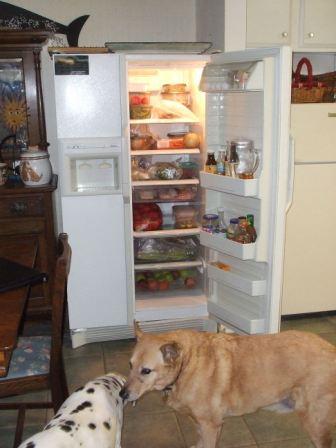 He finally took the couple of steps forward necessary to give it a sniff. And then quickly backed off again. This was not the way that Sunny was used to, either.
Then it happened. Some kids walked by, and he was so focused on the refrigerator that he forgot himself. Sunny barked. Several times! I think it may not have hurt him as much as before, because he almost danced with glee after the final issue. Of course, he did not try to jump up and look from where the noise came. But from his point of view, the circumstances of life have vastly improved.