I used to think that artists had the cushy life. They got to do what they wanted; what they loved, on whatever schedule they chose. I was jealous because there's nothing I like to do better than to make things. But in the past six weeks or so, I've gotten an entirely new perspective on making "artwork" for profit.
With one set client, an item just completed and delivered for another, and a lot of other potential buyers out there... who are constantly making inquiries about my work, I'm suddenly feeling the pressure to produce. It's not that I didn't always have a drive; goodness knows that I've defied almost every social etiquette by knitting or spinning or doing something with my hands at pretty-much every event or gathering I attended. Give me five or ten minutes, and I will have something to show for it.
But this is different. I'm not making things just for myself or as gifts now. I'm making them to sell. And I'm suddenly realizing that Art is a business just as much as what I did in my former life. Except this is much more personal.
It's not that my clients are pressuring me to meet deadlines. In fact, with the exception of a piece that I delivered for a charity silent auction yesterday, they have told me to do this in my own time and not to worry or stress over it. But that's not my nature. When I have work to do, I want to get it done. And there are so many directions that I am pulled in all at once.
Start with the work space. I'd been working in my studio, which is well suited for Spinning yarn and weaving and knitting, but not so good for the beading or leather. I need a standard sized table to produce that with better lighting than is available. So I just set up one of my
Freecycle
tables under a window in my dining area where the lighting is excellent. And now, officially, the only room that is not permeated with my crafts is my bedroom. Unless you count my computer, which is my avenue to market myself and is located right next to my bed.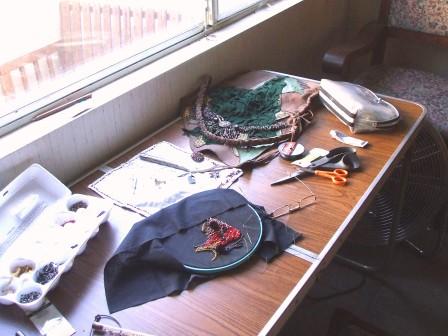 Then there is the number of items in progress at the same time. This piece will be a large pendant for a necklace. When the bead embroidery is complete, it will be glued to leather, then beaded around the edges for a cohesive look. After which, I will attach the necklace and fringe. It is part of a consignment order that I am working on; part of the new skill set that I picked up last weekend at my
Myra Woods' Freeform Beading Class.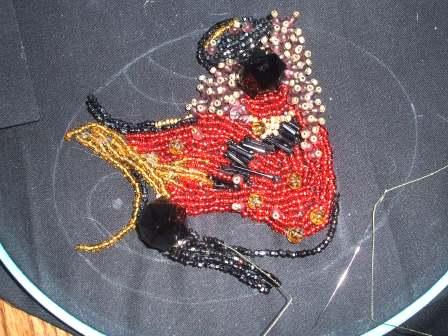 There is the leather handbag. I am sure that there are more leather works in my future because I find that not only am I enjoying the process, but I'm sure that the end result will be high-budget items that are eminently sellable. But the process is slow as I'm beading around the edges of all the leather applique now; and this piece, as my first, will be kept. Not only is there a sentimental attachment to it, but also there are mistakes in it as I learn the process. The next bag I put out will be way more perfect and I'll be more comfortable asking a good bit for it.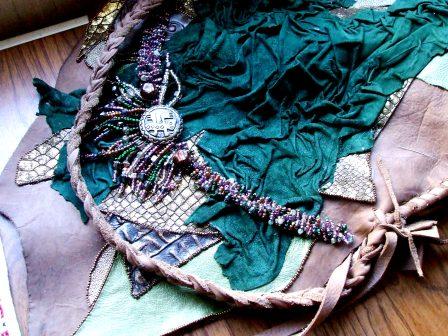 There is also
The Red Scarf Project.
Knit a scarf, send it in, and it will be forwarded to an Orphan who got through the foster care system and managed to get into college or trade school.
Red
Scarf because it will be delivered at Valentines Day as part of a larger package from the Foundation, but the scarf is due at their warehouse by October 15th.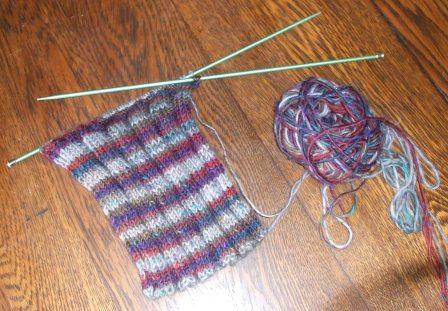 And that's just the "creative" part of my current days. This morning, I also set up a shop on Etsy; "The place to buy and sell all things handmade." No, I have not listed anything there yet... I'll let you know when I do. But the account is established and that's a first step. I also set up a Premiere PayPal account, so I will be able to buy and sell, not only on Etsy, but wherever else the internet offers opportunity.
I guess all of this is good. The good stress, as we used to talk about it at my old job. But I'm finding out that stress is stress is stress. I need to look into avenues to release it. Maybe Yoga?