Last night was Ian's first night in his seven years away from home. He's came for a sleep-over at my home!
He'd been preparing for this event for several weeks. We've conferred about Sunday Morning Breakfast early last week. Eric's kids like chocolate chip pancakes, so I asked Adele if she thought Ian would like them too. "Oh yes." she assured me. And advised that he would like chocolate syrup and whipped cream on them too.
With pancake mix in hand (a gift from Eric out of his box of mix, along with chocolate chips & handwritten instructions how to make them), I planned to pick up the chocolate syrup and cream on Satuday afternoon. It was a good thing that I waited. Ian found out about our plans and gave me a concerned call. He did not want chocolate syrup on his pancakes. He wanted maple syrup. But he still wanted the chocolate chips and whipped cream too. (Can we all say Diabetic Coma together?)
I asked him if it would be ok for him to have pancakes and me to have eggs. "That would be fine, Aunt Laura." he replied. "I don't find the smell of eggs repugnant."
Repugnant?
But when I asked if it would be ok for me to scramble them with tomato and onions, he replied that "That's just plain gross. Tomatoes and eggs don't go together." (I'm screwed.)
So I picked up a bottle of real maple syrup from Trader Joes, and whipped cream from the market. And even before I had took care of that that, Ian called to confer with me about the night again. We discussed what we were going to do. I suggested the Third Street Promenade in Santa Monica because they have gigantic dinosaur topiaries there, but Daddy was a bit nervous about that idea so Mommy & I agreed that we would make a threesome of it another night (or day) while Daddy was at work. Ian and I decided that we would just spend the night in.
Then, I got a call from Adele a couple of days ago, giggling. Apparently, we were not just going to relax. She had found a written schedule that Ian had been working on for our activities.
7:00 pm - Feed dogs biscuits.
7:01 pm - Weave for five minutes.
7:06 pm - Watch "The Last Mimzy."
8:30 pm - Play with dogs.
Sounded like my boys were not going to get much rest. And they didn't! :) Ian believes in leashing them up and escorting them around my condo. They, being the gentle souls that they are, went along with it, even past the point of doggie exhaustion.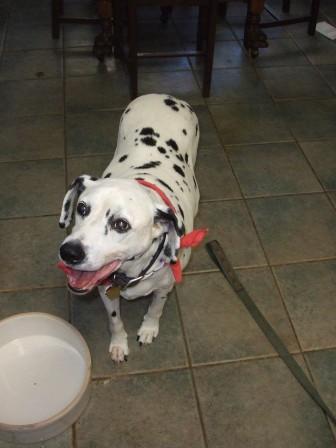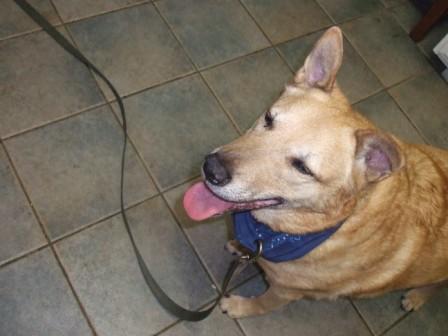 Of course, there was dinner. Our initial plans were for Ian to come over after dinner because I didn't want to chance cooking something for him that he wouldn't like. But as fate would have it, I was left with a lot of garlic bread after another dinner that I hosted here on Friday night. Ian's favorite food. So he came early enough for the evening meal. Garlic bread with a side of Spaghetti with "Pizza Sauce." Not spaghetti sauce, because he doesn't like that. "Pizza Sauce."
And so the evening progressed.:
Cosmos models one of my multitude of plastic spiders. No Mommy, it wasn't one of
the
ones. Photograph by Ian.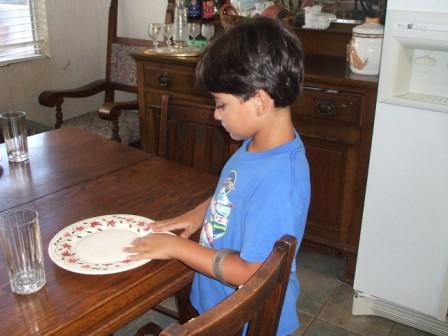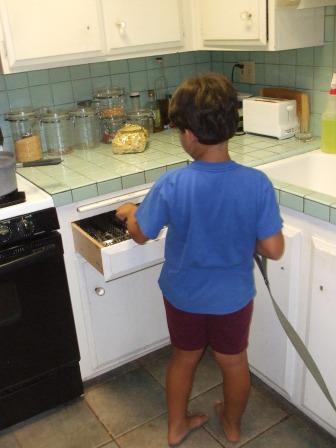 Ian sets the table for dinner...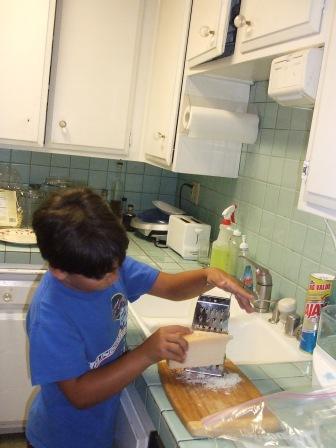 Learns how to grate cheese. Parmesan for the spaghetti...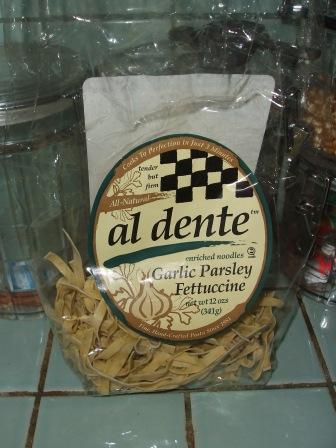 And the pasta of choice for the evening is Garlic Parsley Fettuccini! Somebody has sophisticated tastes for being only seven.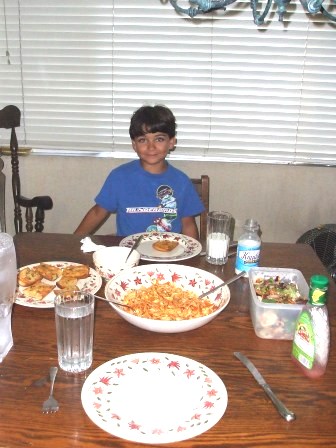 The evening repast. From left to right, Garlic Bread - Pasta - Salad. Only one of us ate the salad and it wasn't the child in the picture.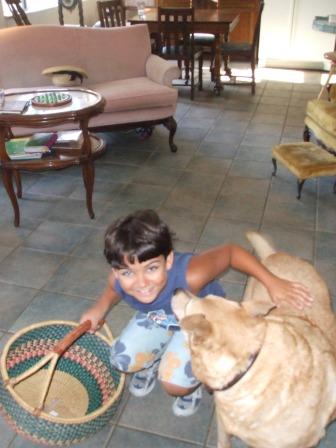 Sunday morning, ready to go to the Farmers Market.

Ian had a surprise for Mommy when she came to pick him up. We made special ice cubes on Saturday night with plastic spiders submerged in them. The plan was to offer Mommy a cold glass of water with ice in it when she arrived. At 112 degrees in the San Fernando Valley, there was no question that she would accept.

For the record, Ian was worried that Mommy would be mad about the prank, so he made sure that she knew that I started it. Yes, Mommy, it was my idea.

And Ian, just in case you're reading... Remember how to get the circumference of a pumpkin?

(Answer: Pumpkin Pi)